KOHPA: When even the biggest storm doesn't endanger the calm #DHDL
In the 2nd episode of the anniversary season of "Die Höhle der Löwen" (The Lion's Den) one can observe extremely opposing opinions of the investors: While one strongly doubts the harmfulness of electro-magnetic radiation and thus the sense of one of two presented products, for the other it is almost too good to be true. But how can one behave in such a situation when the core of one's own product is the center of the discussion? The KOHPA founders successfully demonstrate this.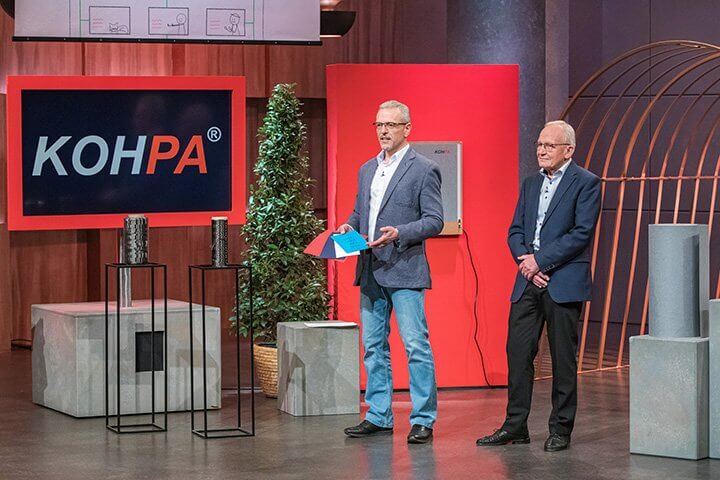 Right from the start, they radiate the greatest calm: Walter and Peter, both trained paper makers, enter the cave, deliver an extremely informative pitch and are subsequently the centre of one of the hottest discussions to be observed in the cave for a long time. But they keep their cool until the very end.
They need 200,000 euros to kick their company into turbo gear, and at least 15% of the shares would be worth it to them.
The two experts have managed to combine carbon and paper fibres, which are actually not at all compatible with each other, and thus created a paper that can conduct electricity. This sounded almost unbelievable to the lions, and so the two founders were sure to attract the attention of the five experienced investors from the start.
After five years of development work, a paper was created that is 0.2 mm thin and can be used exactly like paper, you can even cut it. The only difference is that it conducts electricity. The carbon fibres are obtained from waste materials from the carbon processing industry, and the company's first product can heat surfaces very efficiently up to 35 degrees within seconds. A sustainability dream of a product, then. But the founders from Bavaria have even more to offer: Their second product is designed to keep out electro-magnetic radiation that is too strong and therefore unhealthy for human beings.
But this is precisely the crux of the discussion: Dr. Georg Kofler strongly doubts this point, while Carsten Maschmeyer and Nico Rosberg find KOHPA protect quite interesting. But the founders remain completely calm, talk about their experiences and answer questions about measured values. After all, KOHPA protect is selling well and is responsible for the lion's share of sales to date. And that's something to be proud of: started in 2017 with 30,000 euros, the company has generated a whopping 200,000 euros in annual turnover in each of the last two years. And the forecast for 2021 is even as high as 530,000 euros, so business seems to be picking up even more. The company can also boast a good margin.
But the lions remain sceptical, Nico Rosberg wonders if there is a catch. And that is quite understandable. Such a product would normally be put through its paces by investors, especially institutional investors would probably send technical experts for a closer evaluation. A difficult situation for the founders, who can practically only convince with words in the cave.
But although it looks as if this is the critical point, they remain calm and present strong arguments. Like the offer to sell their patents for a whole 6 million euros. A certain amount of life experience certainly helps to react in such a calm and considered manner when so much is at stake. However, good preparation and the preparation of the most important arguments should also serve inexperienced founders well. A good tip here is to write down the likely sticking points of the negotiation together with 2-3 strong counter-arguments each. With a very technical and innovative product, it is practically in the nature of things that it will be a matter of actually convincing the investors of the innovative strength. Because even in "normal" negotiations there is the "too-good-to-be-true" effect, which can make for rather reserved reactions.
And so the lions are persuaded by the unflappable founders, and in the end there is a joint offer from Dagmar Wöhrl, Carsten Maschmeyer and Nico Rosberg. The founders accept the 33% that their dream team wants, and Nico Rosberg even comments on the deal with "What a fascinating invention, so really, that we see something like that here in the "Die Höhle der Löwen", fantastic". An amazing praise, and the founders are visibly happy.
But for all their calm, they also seem almost a little relieved when they describe their impressions to Moderator Amiaz afterwards. Understandably, the heated discussion does not seem to have left them entirely cold. Whether it was innate character, experience or preparation that enabled them to calmly present their arguments in the face of strong opposition is something we will never know. Perhaps it was a mixture of all of these.
For all others, however, targeted preparation can bring precisely this calmness, which can best bring out their competence even in difficult situations.
But let us first be happy about the outcome of the negotiation. After all, when a model founder with a model start-up receives their three lions of choice, it can be an emotional moment.
Photo (above): TVNOW / Bernd-Michael Maurer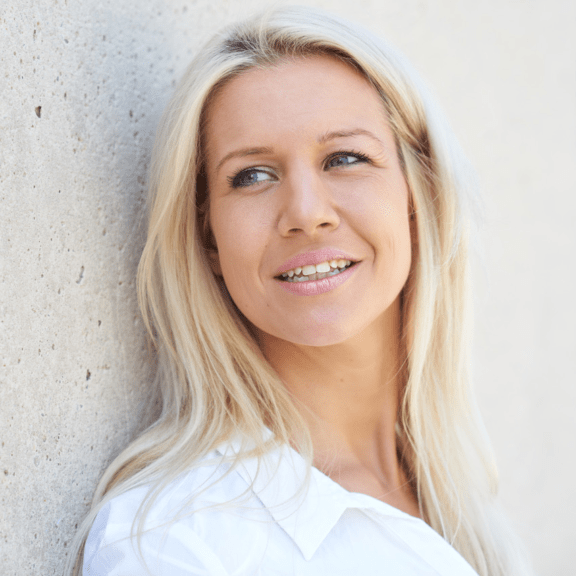 Ruth Cremer
Ruth Cremer ist Mathematikerin und Beraterin sowie Hochschuldozentin auf dem Gebiet der Geschäftsmodelle, Kennzahlen und Finanzplanung. Als ehemalige Investmentmanagerin weiß sie, worauf Investoren achten und hilft auch bei der Pitch- und Dokumentenerstellung im Investitions- oder Übernahmeprozess. Seit 2017 ist sie als externe Beraterin an der Auswahl und Vorbereitung der Kandidaten in "Die Höhle der Löwen" beteiligt.